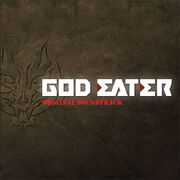 God Eater: Original Soundtrack is an album of the songs featured in the 2010 PSP game, God Eater. Disc 2 includes a mini-Drama skit track.
Tracklist
Disc 1
Over the clouds
Slashing the Storm
Wolf's Howl
Adult Time - Romance Mix -
Shadows Over the City
Enemies of Mankind
Gods' Feast - Gluttons -
The Last Memories
A Person's Warmth
Voices of the Storm
Ephemeral Wish
Advancing Nightmares
Emotions
Wavering Soul - Dazzling Voice -
Dance of Flames
The Plan
Those Carrying Solitude
Doubt
No Way Back - Out of My Way -
The Birth of a Rebel
The Savior's Return
Peaceful Time
my life - Shio's Song -
Give Me Power
Demise
New World
If the Time Comes
God and Man Vocal ver.
Disc 2
God Eater
Slashing the Storm
Strategy Meeting
A Person's Expectations
Cheerful Ace
Shadows Over the City - Fear -
Squishy Freezy
Resting Time
Stopped Feelings
Gods' Feast
Scar
Compassionate Stage
Snowstorm - Drums of Monkey -
Cry of Grief
Wavering27. Soul
Advancing Nightmares
Ephemeral Wish - Reminiscence -
New World - Unknown -
Everybody Equally
Adult Time
Heroic Determination
Deo Volente
The March of Evil
my life
God and Man - Shall we meet again -
Mini Drama - Kota and Alisa in Special Mission -
Unreleased Tracks
Shadows Over the City - Roar -
Gods' Feast - Cherished -
Nightmares - Creaking Wheel -
Dance of Flames - Banquet -
Ad blocker interference detected!
Wikia is a free-to-use site that makes money from advertising. We have a modified experience for viewers using ad blockers

Wikia is not accessible if you've made further modifications. Remove the custom ad blocker rule(s) and the page will load as expected.