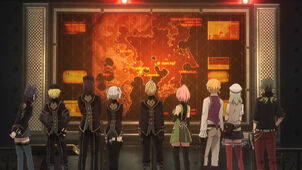 The God Eaters are the titular group of characters in the God Eater series. Like the God Arcs and the Aragami, they are the character focus in the game's story and gameplay. There are different generations of God Eaters: 1st, 2nd, and 3rd generations. The 3rd generation of God Eaters are said to have greater potential than the previous two. 1st generation God Eaters are the regular army and old types, 2nd generations consist of regular new types, and the 3rd generation are currently only members of Blood.
Definition
God Eaters are humans who undergo intensive training to learn to control God Arcs, which they are paired to with Fenrir's "aptitude tests", and they use such formidable weapons to fight against the Aragami. They are humanity's last line of defense formed by Fenrir against these devourers of entirety. All branches of Fenrir divided God Eaters to each unit numbers, except Fenrir America Branch they are using NATO phonetic alphabet (as seen in Return of the Messiah) instead of numbers.
God Eater Burst/Resurrection Members and Teams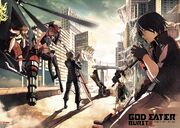 In Fenrir's Far East Branch, there are three notable teams, or Units;
the 1st Unit (Retaliation Team), the 2nd Unit (Defense Team), and the 3rd Unit (which is not seen in the game but most likely to be a reserve unit). There was also a 7th Unit mentioned but its members remain unknown as the unit itself only had a single mention during the course of the game. Note: These ranks are based on Challenge Rank.
The following members in each unit, along with their classes and God Eater types and weapons, are:
1st Unit (Retaliation Team)
2nd Unit (Defense Team)
3rd Unit (Reserve Team)
Unknown Unit
Others
Shio - (Aragami Girl), (New-Type/??? Generation/Assault Gun/Short Blade)
Ren - (God Eater Soul), (New-Type/2nd Generation/Sniper Gun/Short Blade)
God Eater 2/Rage Burst Members and Teams
Unlike the previous game and the remake, class types are removed to favor weapon labels.
Special Forces Blood
Note: All Blood members are recorded as 3rd Generation God Arc users in the NORN.
1st Unit
4th Unit
Haruomi Makabe - (Captain) (New-Type/2nd Generation/Sniper Gun/Buster Blade)
Kanon Daiba - (Old-Type/1st Generation/Blast Gun)
Unknown Affiliation
Kigurumi - (New-Type/? Generation/Shotgun/Short Blade)
Former Affiliation (Fenrir Far East Branch)
Cradle
2nd Unit (Reformed)
3rd Unit (Reformed)
Fenrir Glasgow Branch (Former Affiliations)
! - Kate and Gilbert are recognized as having an Old-Type God Arc prior to making use of the New-Type God Arc they are seen with.
Fenrir Singapore Branch
Carie Yue - (New-Type/2nd Generation/Shotgun/Short Blade)
Fenrir Marseille Branch
Fenrir Rio de Janeiro Branch
Inez Almeida - (New-Type/2nd Generation/Blast Gun/Charge Spear)
Retired God Eaters
Gen Momota - Instructor (Formerly Old-Type/1st Generation/Pistol Gun)
Tsubaki Amamiya - Instructor (Formerly Old-Type/1st Generation/Assault Gun)
Damian Rodrigo - Engineer (Formerly Old-Type/1st Generation/Unknown Equipment)
Other Media
Fenrir America Branch
God Eater: Return of the Messiah
Asasoru (Former Affiliations)
God Eater: Those Who Break Taboo
2nd Unit (Defense Team)
Marco Donath - (Defense Leader/???), (Old-Type/1st Generation/Blast Gun)
Tatsumi O'Mori - (Guard Private), (Old-Type/1st Generation/Short Blade)
Brendan Bardell - (Assault Private), (Old-Type/1st Generation/Buster Blade)
Far East Wolf Valley Academy