Is this the end of Fenrir? What happened to the GOD EATERS? A new GOD EATER project is coming, stay tuned for details...
First trailer
From the ashes... a new generation of Gods begins.
-Second trailer
God Eater 3 is an upcoming sequel of God Eater 2 Rage Burst.
According to the trailers, there was a disaster of tremendous proportions that devoured Fenrir, and is apparently still ongoing by the time of the narration. According to its first official trailer, 3 will feature dual wielding, a first in the God Eater series.
Synopsis
The game's official synopsis reads as follows:
Earth no longer resembles the home we know of now. The Aragami, terrifying beasts that live only to consume, are carving a path of destruction and misery wherever they are encountered. To combat this threat an elite group of heroes known as God Eaters are called upon to save humanity. God Eaters are individuals who have been bestowed upon them the ability to wield powerful new God Arcs, special weapons powered by Oracle Cells and the only known weapons capable of destroying the monstrous Aragami. However, another mission is coming into focus; something is happening to the God Eaters and the line between light and dark has never been so thin. It's time to start breaking free from the cursed shackles that bind the souls of the God Eaters as the battle rages on around them.
Information
Here are the tidbits from Weekly Famitsu:
First, they apologized for the three-year wait since the release of God Eater 2: Rage Burst.
After development of Rage Burst wrapped up, they reconsidered what draws people to God Eater and what players are looking for. By looking at user feedback, they were faced with a situation where what users want is considerably different from the current God Eater.
In addition to looking at evolving the series, they explored market potential, including overseas expansion. Both God Eater 2: Rage Burst and God Eater: Resurrection were well-reviewed overseas.
They felt that God Eater 3 should return to the feeling first felt in God Eater—the good feeling of speedily fighting enemies.
God Eater 3 is set after the events of God Eater 2: Rage Burst.
The setting of God Eater 3 is the area around a Fenrir Headquarters. However, the Fenrir Headquarters that existed in God Eater 2: Rage Burst has already collapsed.
The world view from previous games has changed considerably, and the positions of the God Eaters have also changed.
Development is proceeding with console as the base. It is being developed on PC, and from there will be moved to console.
They're evolving multiplayer to make it more enjoyable to play for the current era.
(In regards gameplay outside of four-person multiplayer) It's possible.
The fields are being completely remade.
You can move around seamlessly on the field, and areas are the biggest they have ever been in a God Eater game. Fields feel more expansive than ever. There are many fields with differences in elevation, as well.
God Eater 3 will have enemies with different properties and abilities from Aragami, and these enemies will devour the player.
Devoured enemies will enter a strengthened state, leaving the player in a critical situation.
Up until now, the games were made up of "gods and mankind," but this is vague in the protagonist of the game, who wore shackles on each of his hands. There's a feeling of Gods devouring each other.
In addition to dual wielding God Arcs, new God Arcs different from previous systems will also appear.
Outside of that, the game will also incorporate new elements in order to face against formidable enemies.
The smartphone RPG God Eater: Resonant Ops is set between Rage Burst and 3, but that doesn't mean you won't be able to understand 3 without playing it.
Development is currently 30 percent complete.
Trailers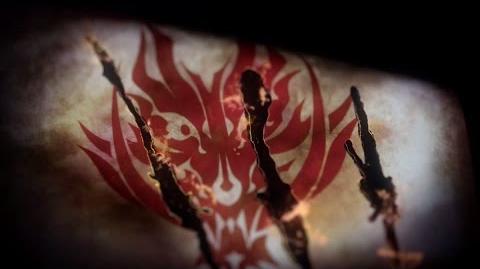 Screenshots
Protagonist
Aragamis
God Arc
Worlds
Others