| | |
| --- | --- |
| | Description: The remains of a power plant that once supplied electricity to neighbouring cities. It looks like a forest, thanks to changes in the environment that allowed greenery to flourish, and the steel towers dotting the landscape. After the Aragami devoured the underground facilities, most of the plant sank underwater. There is no more din and bustle…nothing but the sad sound of water running through the plant. |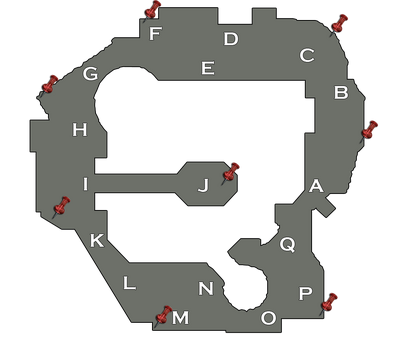 Salvage Points
Rank 1~3
Section
Item
Rate
B
Herb Case
?%
Medical Kit A
?%
Oak Bark
?%
Brittle Tungsten
?%
-
-
C
Eroded Rock A
?%
Salve
?%
Impure Soft Iron
?%
Weak Tool Steel
?%
-
-
F
Broken Drill
?%
Eroded Rock A
?%
Inferior Rubber
?%
Impure Liniment
?%
Nectar
?%
G
Uniform A
?%
Meteorite Silver
?%
Inferior Rubber
?%
Impure Soft Iron
?%
-
-
I
Brittle Tungsten
?%
Medical Kit A
?%
Oriental Herb
?%
Oak Bark
?%
-
-
-
-
J
Oriental Herb
?%
Inferior Rubber
?%
Impure Liniment
?%
Salve
?%
-
-
-
-
M
Brittle Tungsten
?%
Weak Tool Steel
?%
Meteorite Silver
?%
Impure Soft Iron
?%
-
-
P
Uniform A
?%
Scrap Flashbomb
?%
Medical Kit A
?%
-
-
-
-

Rank 4~6
Item
Rate
Mahogany Branch
?%
Ash
?%
Oak
?%
Tungsten
?%
-
-
Eroded Rock B
?%
Panacea
?%
Meteorite Silver
?%
Coating Agent
?%
-
-
Old Drill
?%
Salve
?%
Inferior Rubber
?%
Soft Iron
?%
Nectar
?%
Uniform B
?%
Magnesium
?%
Meteorite Silver
?%
Inferior Rubber
?%
Impure Soft Iron
?%
Tool Steel
?%
Medical Kit B
?%
Oriental Herb
?%
Oak
?%
Mahogany Branch
?%
Impure Soft Iron
?%
Oriental Herb
?%
Inferior Rubber
?%
Liniment
?%
Panacea
?%
-
-
-
-
Tungsten
?%
Tool Steel
?%
Meteorite
?%
Soft Iron
?%
Liniment
?%
Uniform B
?%
Scrap Flashbomb
?%
Ash
?%
Nectar
?%
Aragami Extract
?%

Rank 7~8
Item
Rate
Mahogany
?%
Ash
?%
Oak
?%
Refractory Alloy
?%
-
-
Eroded Rock C
?%
Sage Stone
?%
Meteorite
?%
Pure Soft Iron
?%
High-speed Steel
?%
Drill
?%
Panacea
?%
Superior Rubber
?%
Coating Agent
?%
Amrita
?%
Uniform C
?%
Magnesium
?%
Meteorite Silver
?%
-
-
-
-
Liniment
?%
Medical Kit C
?%
Oriental Herb
?%
Oak
?%
Mahogany
?%
-
-
Oriental Herb
?%
Superior Rubber
?%
Coating Agent
?%
Sage Stone
?%
Panacea
?%
?%
Refractory Alloy
?%
High-speed Steel
?%
Meteorite
?%
Pure Soft Iron
?%
-
-
Uniform C
?%
Scrap Flashbomb
?%
Ash
?%
Nectar
?%
Aragami Extract
?%

Rank 9~10
Item
Rate
Mahogany
?%
Ash
?%
Oak
?%
Refractory Alloy
?%
-
-
Eroded Rock D
?%
Philosopher's Stone
?%
Pure Soft Iron
?%
-
-
-
-
Drill
?%
Sage Stone
?%
Superior Rubber
?%
Coating Agent
?%
Amrita
?%
Uniform D
?%
Magnesium
?%
Meteorite
?%
Superior Rubber
?%
-
-
Coating Agent
?%
Medical Kit D
?%
Oriental Herb
?%
Oak
?%
-
-
-
-
Oriental Herb
?%
Superior Rubber
?%
Coating Agent
?%
-
-
-
-
-
-
Refractory Alloy
?%
Cemented Carbide
?%
Meteorite
?%
-
-
-
-
Uniform D
?%
Scrap Flashbomb
?%
Ash
?%
Aragami Extract
?%
-
-
Additional Information
The Japanese name of this field is "Forest of Steel Towers".

The field got a small rework in 

God Eater 2

, the wall between J and Q is gone.
Ad blocker interference detected!
Wikia is a free-to-use site that makes money from advertising. We have a modified experience for viewers using ad blockers

Wikia is not accessible if you've made further modifications. Remove the custom ad blocker rule(s) and the page will load as expected.