Tutorial by: Klausen WIfall
Well everyone knows Hamachi, but for who need (or want) a alternative how about Tunngle?
In this tutorial i will show how to use it:
First you need to download the program if you already have ignore this part:
There are 2 way's to download it, the normal installer and the offline one, personally i recommend the offline one to prevent future issue's.
Link: HERE
After download the program, install it, if you use Windows 7/8/10 a window will pop-up asking to Install a virtual drive, Install it and during the install he will ask to install a gadget too, but this is optional.
After the install you are almost done!
Now you need an account, its simple and easy to create one just use this >> Link
After that you just have to Log in and wait.

A pop-up Window will appear just ignore it drawing down(or clicking in skip if this option appears) Now you just have type the game you want to play in the search bar for network of the game you want to play.
Now just enter clicking it and you are good to go!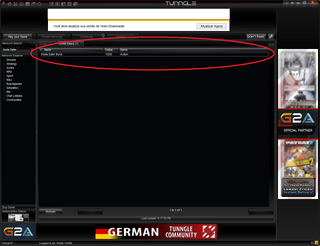 Anyone who want to add more information for the page are Welcome to do it.
Was this tutorial helpful?
Ad blocker interference detected!
Wikia is a free-to-use site that makes money from advertising. We have a modified experience for viewers using ad blockers

Wikia is not accessible if you've made further modifications. Remove the custom ad blocker rule(s) and the page will load as expected.