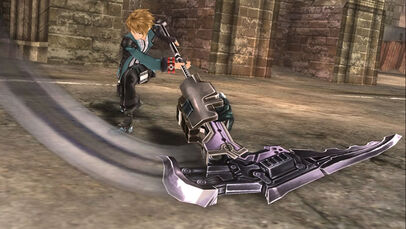 God Eater 2 Rage Burst
Kurogane / クロガネ
Design
Weapon
Upgrade
Materials
Skills
Damage Type
Attribute
Sunder
Crushing
Piercing

Blaze

Freeze

Spark

Divine

[File Placeholder]

Kurogane Scythe

[Rank 1]

Kurogane Scythe

[Rank 1]

↕

[PH]

MatPlaceholder1
Combo Master

106
0
0
-
-
-
-
[PH2]
MatPlaceholder2
[PH3]
MatPlaceholder3
[PH4]
Matplaceholder4
Dama de Ferro /
Design
Weapon
Upgrade
Materials
Skills
Damage Type
Attribute
Sunder
Crushing
Piercing

Blaze

Freeze

Spark

Divine

[File Placeholder]

Dama de Ferro

Dama de Trovao

Pixie Thorn x2

Pixie Shell x1

Pixie Elastomer x1

Bind S
106
0
0
-
-
-
-
[PH2]
MatPlaceholder2
[PH3]
MatPlaceholder3
[PH4]
MatPlaceholder4
[File Placeholder]
Dama de Trovao
[PH]
Sparking Barrel x2

Pixie Shock Shell x1

Pixie Elastomer x1

Feather Knock
121
0
0
-
-
O
-
Icereave /
Design
Weapon
Upgrade
Materials
Skills
Damage Type
Attribute
Sunder
Crushing
Piercing

Blaze

Freeze

Spark

Divine

[File Placeholder]

Icereave

Icereave

↕

[PH]

Beetle Helm x2

Freeze Ogre Fang x1

Rough Barrel x1

HP S
116
0
0
-
O
-
-
Wild Scythe: Yang /
Design
Weapon
Upgrade
Materials
Skills
Damage Type
Attribute
Sunder
Crushing
Piercing

Blaze

Freeze

Spark

Divine

[File Placeholder]

Wild Scythe: Yang

Wild Scythe: Yang

↕

[PH]

Avian Mask x2

Avian Flesh x1

Avian Claw x1

Combo Master
122
0
0
-
-
-
-
Trivia
Livie is the first and only character shown to be using the Variant Scythe in all GE media.
The Japanese name can be read as either "Valiant" or "Variant". While the latter is the official English name and, based on the names of the other Polearm types (Charge Spear, Boost Hammer) which detail their function, the correct reading (referring to its variable length) was deduced. However, Gilbert refers to it as a "Valiant Scythe" during one of his Character Episodes.
Gallery
Ad blocker interference detected!
Wikia is a free-to-use site that makes money from advertising. We have a modified experience for viewers using ad blockers

Wikia is not accessible if you've made further modifications. Remove the custom ad blocker rule(s) and the page will load as expected.